I felt the chill of the last cool breeze of the morning on my face as I saw the Sun start to creep over the hills to my left and light Highway 5. Only a few hours into the drive and already a strange battle between my old friends Tired, Scared, Excited, and  Anxious were all fighting each other for dominance in my mind  as I sped down the empty towards Southern California. It had been some time since I'd headed out on my own in an adventure of this magnitude, and the thrill of the drive had awoken me early in the morning, giving me plenty of time to allow this powerplay to continue. The first taste of caffeine had tilted the odds towards Impatience and had incapacitated Fear, and as the sunlight danced across the barren Central Valley I dug my foot in deep into the throttle and headed further South towards this new adventure. I was making this drive alone, except for the lunchbox to the side of me and the backseat of my wife's 57 Chevy loaded with enough spare parts and tools to build another one if the need arose. Today was the Open House at Gene Winfield's shop in Mojave, CA, and was to be my first trip ever into the High Desert. Behind me was home, safety, security, and relative comfort, ahead of me was mystery and adventure in a desolate environment far from home.
The primary motivation behind making the drive was comradery and friendship, this was going to be the day my Car Club extended membership to a good friend John who had been making excellent progress on his Montego project, a secondary motivation was the opportunity to attend this historic show I'd read about for years and always hoped to see for myself. Tertiary was a set of wheels waiting for me in the backseat of another friend and club member's car that I'd bought from another friend and was eager to get back home and onto one of my cars. Quaternary, I suppose, was to satisfy my curiosity about the desert itself, which I'd only passed through at night on the road to elsewhere. I knew this to be where they filmed Kirk's fight with the Gorn, and to be the heart of America's R&D aerospace industry, and both facts fascinated me. The land of Gene Winfield, a place where any open field may have either horses or prototype spaceships, was in a way complimentary to my hometown and a place I'd wanted to see for a long time. Quinarily I had hoped to take some time to meditate on a few things that had been bothering me, which was possibly the most successful goal of this trip as the result of which you're currently reading.
I was making good time down 5 and before I knew it I was passing through Bakersfield. As time passed and the temperature rose I found myself pushing further, deeper into the barren desert of the Mojave. Driving into Mojave from Bakersfield you get to see an interesting trend in landscape, the further into the desert you go, the more inhospitable the plants on the side of the road become. I pulled off the main road down onto the highway  amid a seemingly endless sea of sharp spikey plants of death that would take me to Winfield's shop and I was stunned. Breaking the morning skyline were enormous windmills, huge arrays of solar panels, and desolate airstrips. I could tell I was getting close to Winfield's when I started seeing some lone Customs blazing down the road past me. Driving through the desert in Mohave is probably as close as I'll ever get to visiting a Martian outpost, it is a bizarre mix of low and high tech, a rugged frontier of enormous high tech developments juxtaposed next to airplane boneyards and abandoned buildings. I fell in love with this place almost immediately, it's an incredibly exciting and fascinating scene. It's no wonder that they filmed Firefly out here, it would not look out of place to see the Serenity drop out of the sky over these hills and spin a Crazy Ivan towards Bakersfield and frankly I don't think anyone here would be phased by it in the slightest.
I made it towards the exit, and as I headed off the highway to the remote shop on the edge of town I realized that despite my cursory preparation for this trip I truly had no idea what to expect. Winfield's shop is way out in the middle of nowhere, and without seeing it first-hand it's hard to appreciate just how remote this place is. It's the perfect neighborhood for what he has going on out there, in fact it's the only place I can imagine in the world that would be close enough to civilization to still be relevant after all these years but far enough away to hammer long into the night and really spread out away from the prying eyes of neighbors, OSHA and the EPA. In just a few minutes I was rolling past a stretch of cars parked on the side of the road, and my heart raced as I pulled into the gates.
"Ok, you're all set, here's a ticket and a show card, just go ahead and pull in past the Pacifica and make your way to the back, I think there's still some parking left"
The proper words for what it feels like to drive into this show simply don't exist. I came in from the relative obscurity and anonymity freeway, nearly six hours from home, and all of a sudden was hit with a tsunami of inexplicable cool. I puttered my way around the Pacifica, past where Gene Winfield and Bill Hines and others were standing shaking hands and signing autographs, and made my way to the back of the lot where my friends and club brothers were waiting for me. I parked, got out, and was completely overwhelmed.
Winfield's shop is not just a workshop on a small piece of land in the desert. It is an absolute custom car builder's dream, a grown up playground overflowing with amazing cars and parts at every corner. This is sacred ground. Everywhere you look there's something incredible, everywhere you look there's something wild enough that even by itself were you to see it on the side of the road you'd pull over and spend a day gawking at it in disbelief. There are tons of amazing projects and parts cars in the back, racks of rare and obscure parts in the middle, and stacks of wild fiberglass parts and molds behind the shop. It is completely overwhelming; I could spend months crawling around and never really take it all in. To be honest between the heat and the overwhelming automotive menagerie I have no idea how long I stomped around, but it felt like I spent days there absorbing it all in what must have been mere minutes. Eventually we made our way through the scrap yard and stumbled through the show portion toward the front of the yard and found our way over to Winfield's workshop to see the tools and place used to build his legendary customs.
Winfield's shop itself is surprisingly modest, it's only as big as it needs to be, and only has the tools needed to produce his amazing customs on the shop floor. I loved seeing all the homemade metalworking tools first hand, there is something staggeringly punk rock about seeing the humble homemade hammers and anvils made from railroad ties that are used to build amazingly elegant and well finished customs that roll out of this shop and into million dollar homes and movie sets. The paint booth where Winfield now lays down his stunning fade paintjobs is really nothing too sophisticated, the most impressive thing about the shop is what they are able to accomplish out there with the relatively simple tools that they have. More than anything else, walking through the shop I felt an overwhelming sense of motivation to get to work in my own thrown together little home garage workshop shop, if Winfield is able to produce what he does out there there's no reason to sit and wait to have nicer tools or a better setup surely I can do better with what I have too. I've always been a big advocate of DIY and working with what you have, and seeing Winfield's shop in person was in a lot of ways vindicating, it helps make the point that the things it takes to build amazing cars isn't necessarily determined by your bank account. I was very impressed, and I think seeing Winfield's shop has significantly changed my focus in how I'm setting up my own home garage, I mean if he can do what he does with that then what the fuck is my excuse? I'd heard this show described as a pilgrimage before, and not until seeing it myself did I appreciate how accurate that is.
I stumbled around the show in a overheated road worn daze and managed to get a few pictures of some of the incredible cars that made it out to this show. I loved the variety of cars there, it was pretty awesome to see some insane Mad Max inspired off road cars next to incredible customs, hot rods, choppers and junked cars all in one place. This is probably the most impressive show I've ever been to, it was incredibly personal and just an amazing scene. The kinship shared between people who choose to live in this harsh environment was also pretty impressive, everyone I spoke with was incredibly warm (no pun intended) and hospitable. After a few hours we decided to call it a day and head out to get lunch before heading back to our respective corners of the state. As we rolled out together from the backlot and out the front gate onto the lonesome desert road I felt a newly awakened sense of brotherhood and camaraderie, as I rode out behind John in his newly plaqued custom Montego back towards civilization I felt like we had accomplished something together just by being in that place and touching the same dirt. Gene Winfield's shop is a truly incredible place to get to see, and this show was an awesome thing to be a part of.
After a meal and a great time catching up at the local burger place (which I was shocked to find out had vegan options!) I was back on the road, making quick time to get back home towards my half of the state. I drove back North a changed man, christened by the desert sun and a humbled apostle of one of the last living legends of Car Culture. I can't wait to make it back down, and I'd urge anyone considering to make the pilgrimage themselves to do so as soon as possible, this opportunity won't be around forever.
This wild contraption was built by Dean Jeffries for the movie Damnation Alley.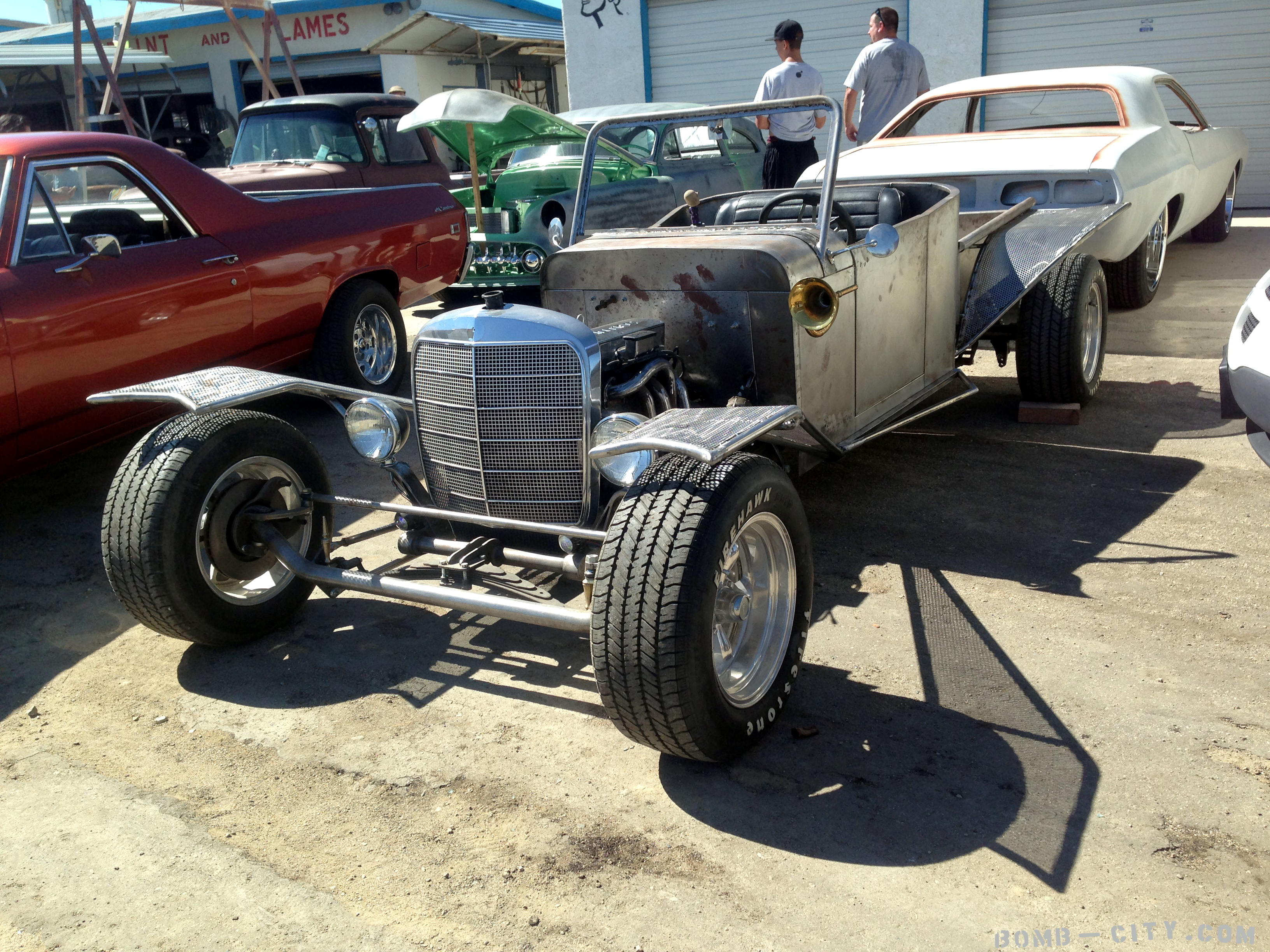 This in-progress hot rod had a lot of interesting stuff going on with it's modern Pontiac motor and use of perforated panels.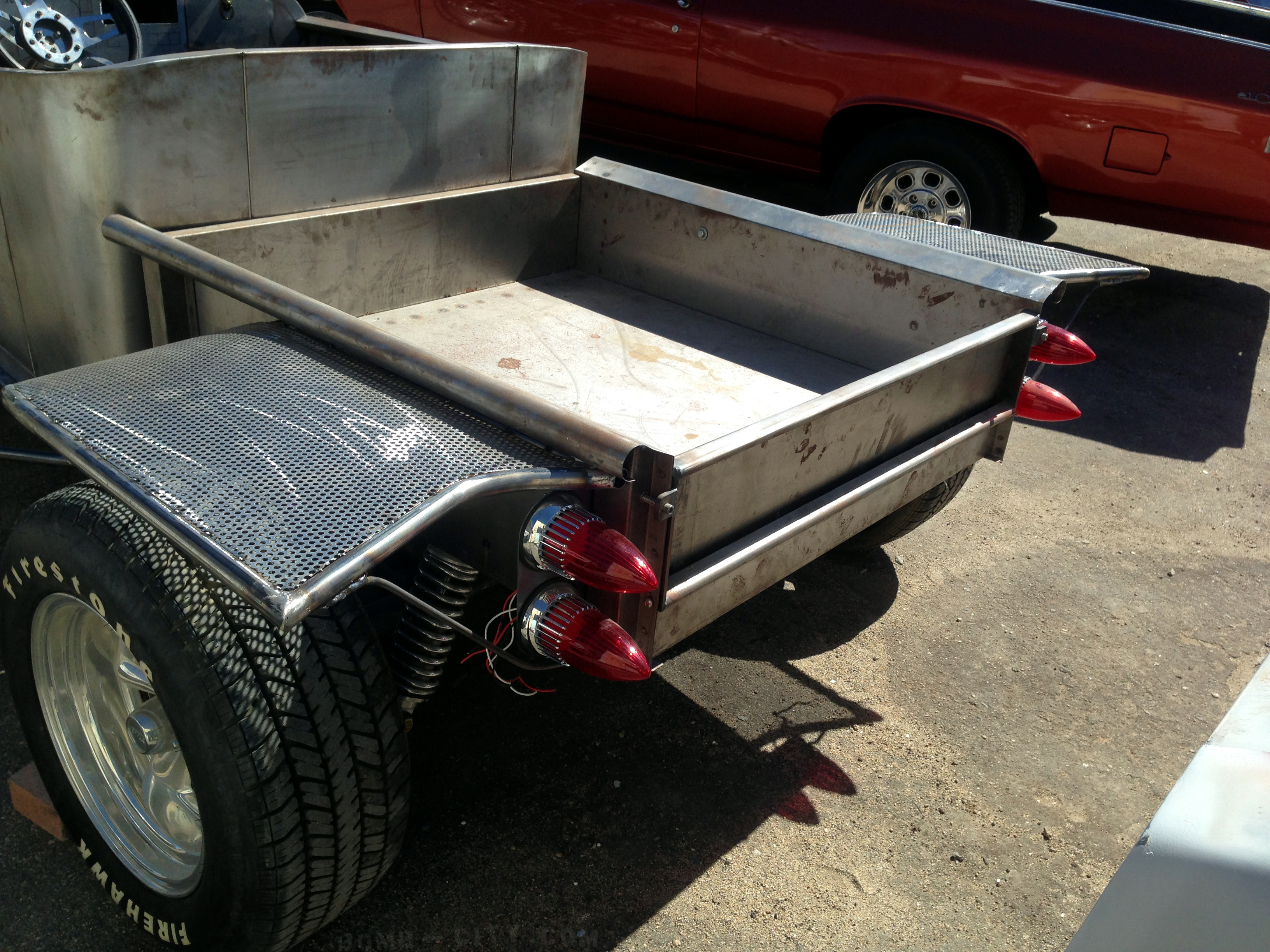 Another shot of that in-progress hot rod, complete with fins and 59 caddy taillights.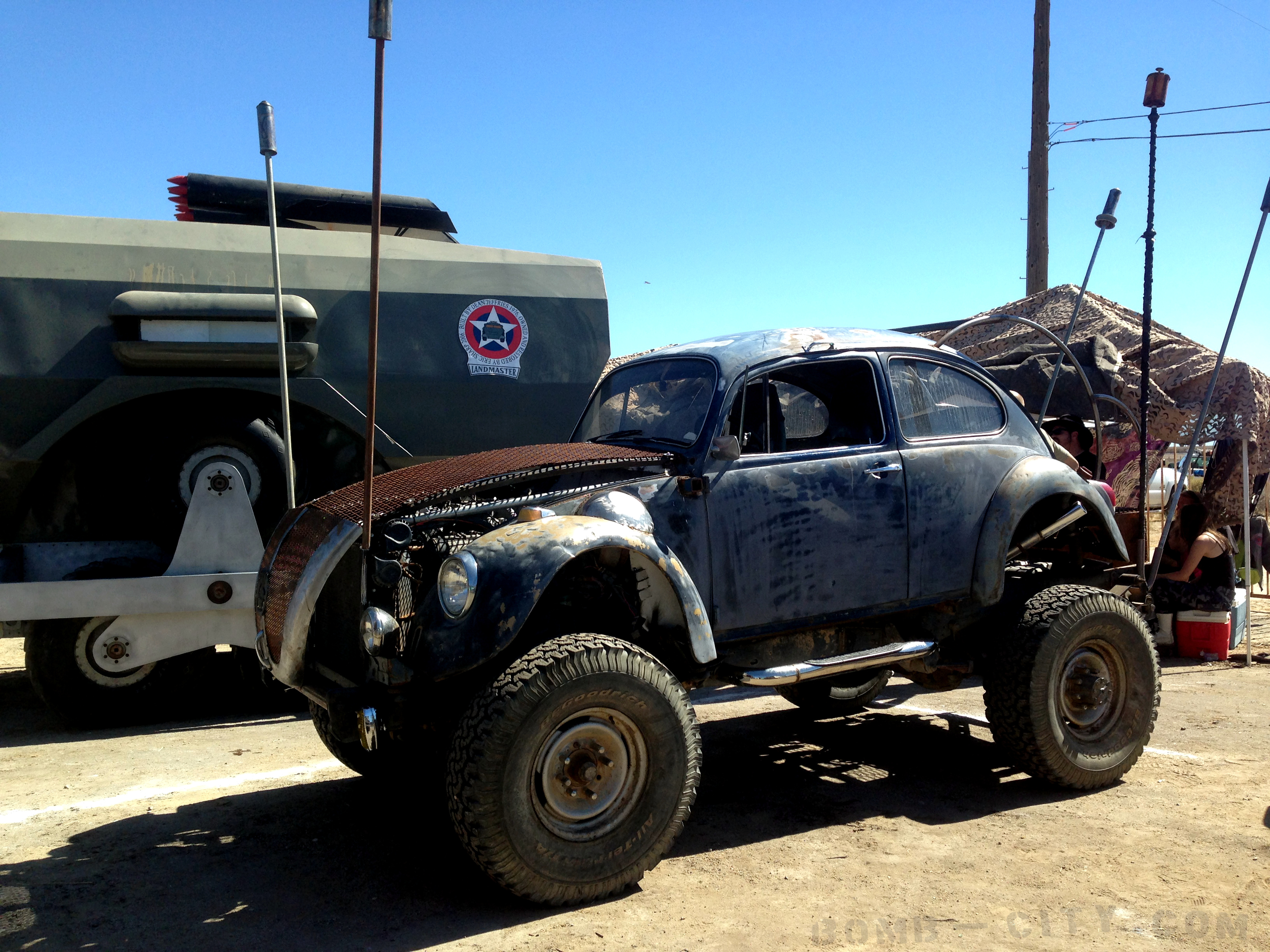 Apocalypse ready.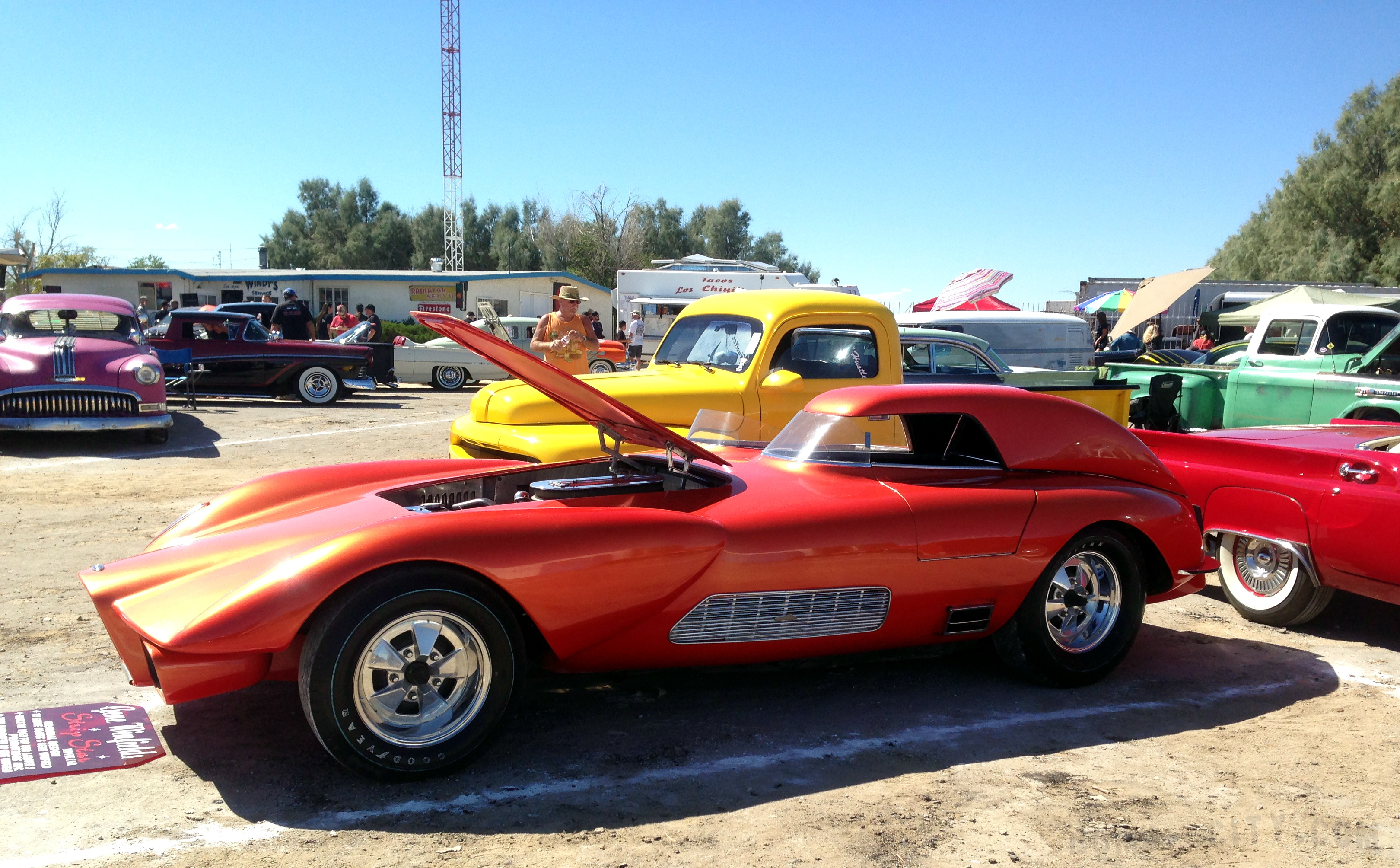 The Strip Star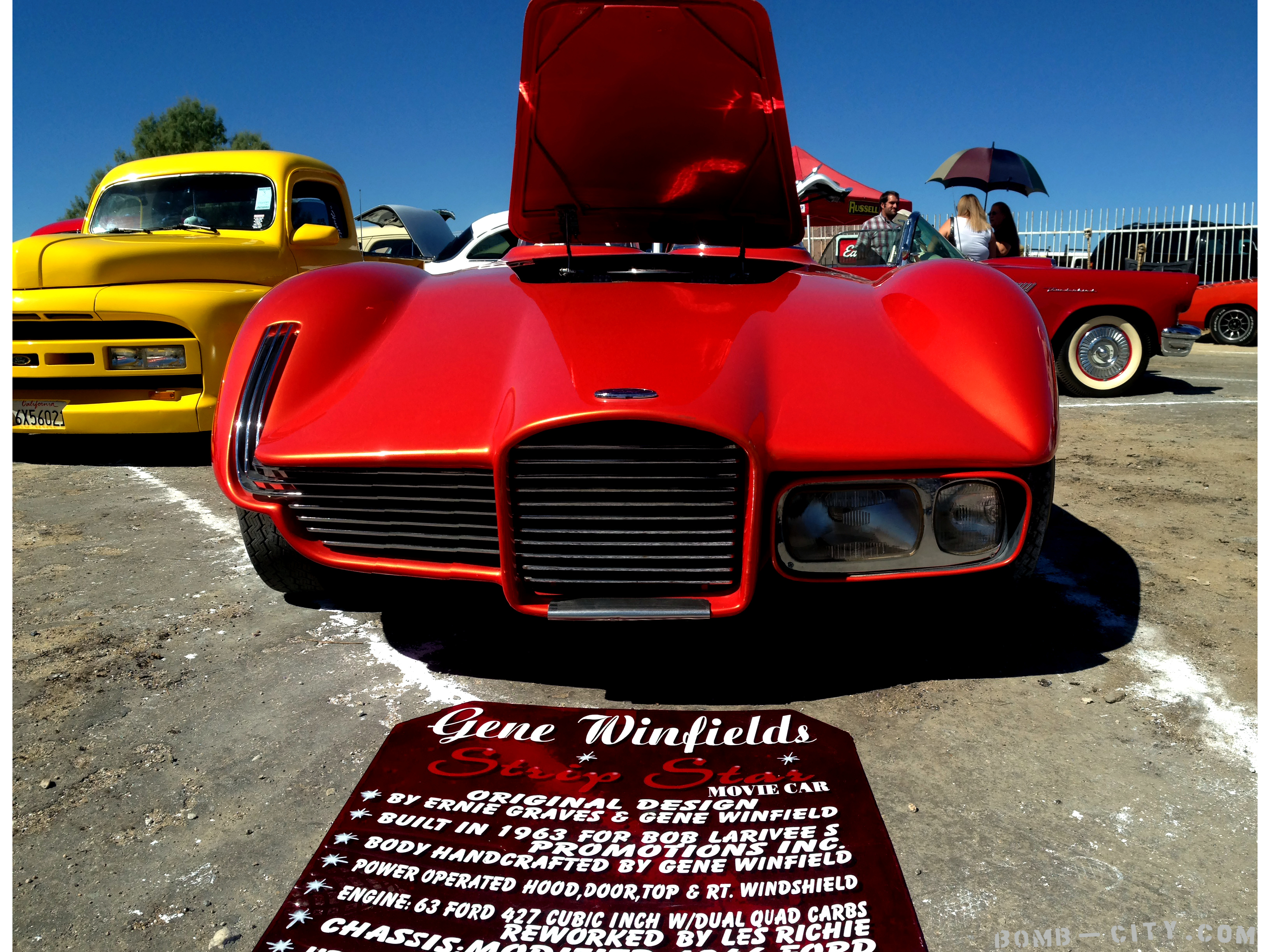 Another angle of the Strip Star. I love this car.
Cruising the High Desert with Bob, John, and Mark following close behind.
The deep green metalflake on this Riviera was stunning.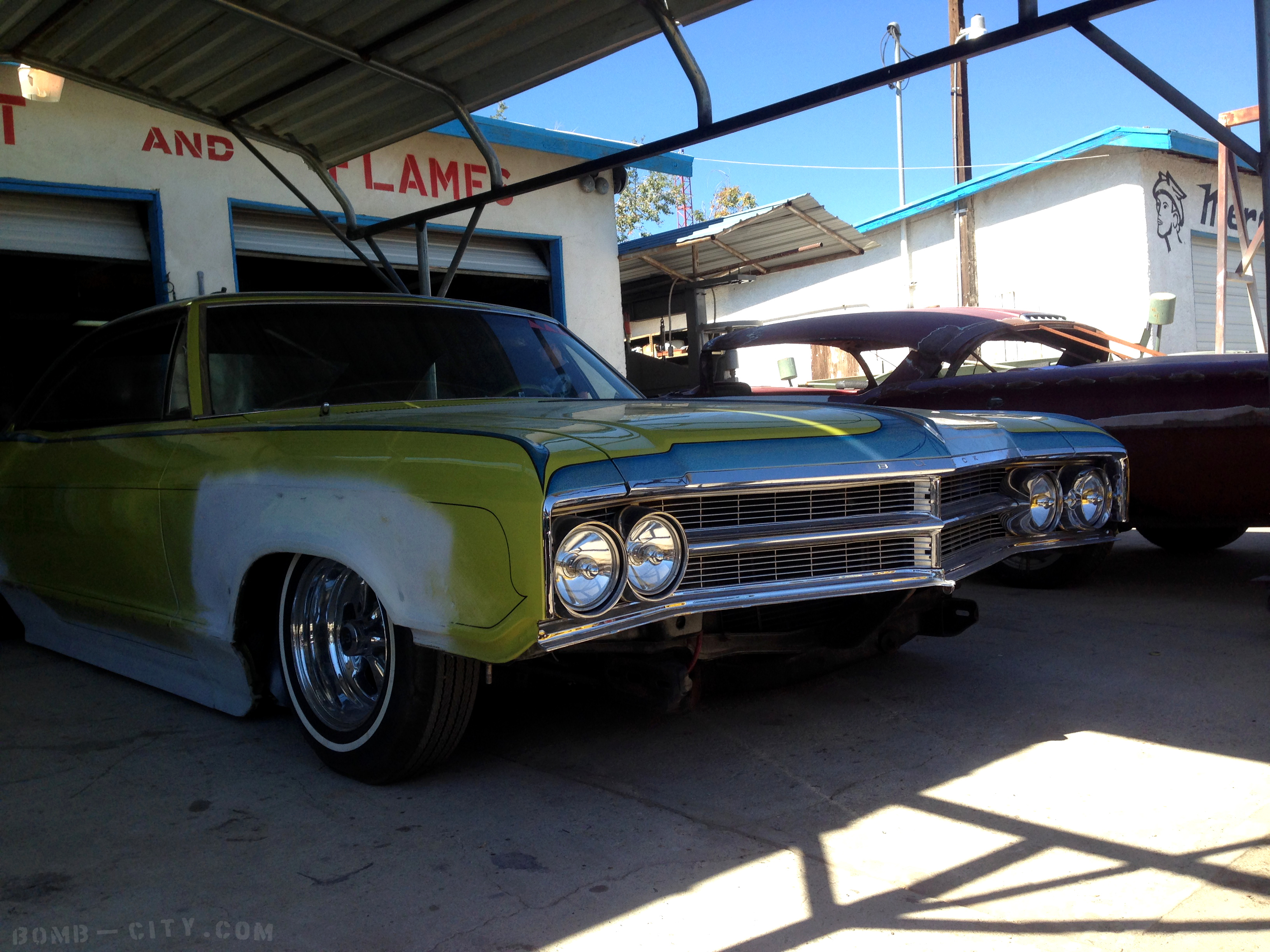 This in-progress Buick is from Wheels Unlimited in Japan, and is getting a few custom touches finished before getting a WInfield fade paint job. Dig the flared rockers and super rare reversed wheels.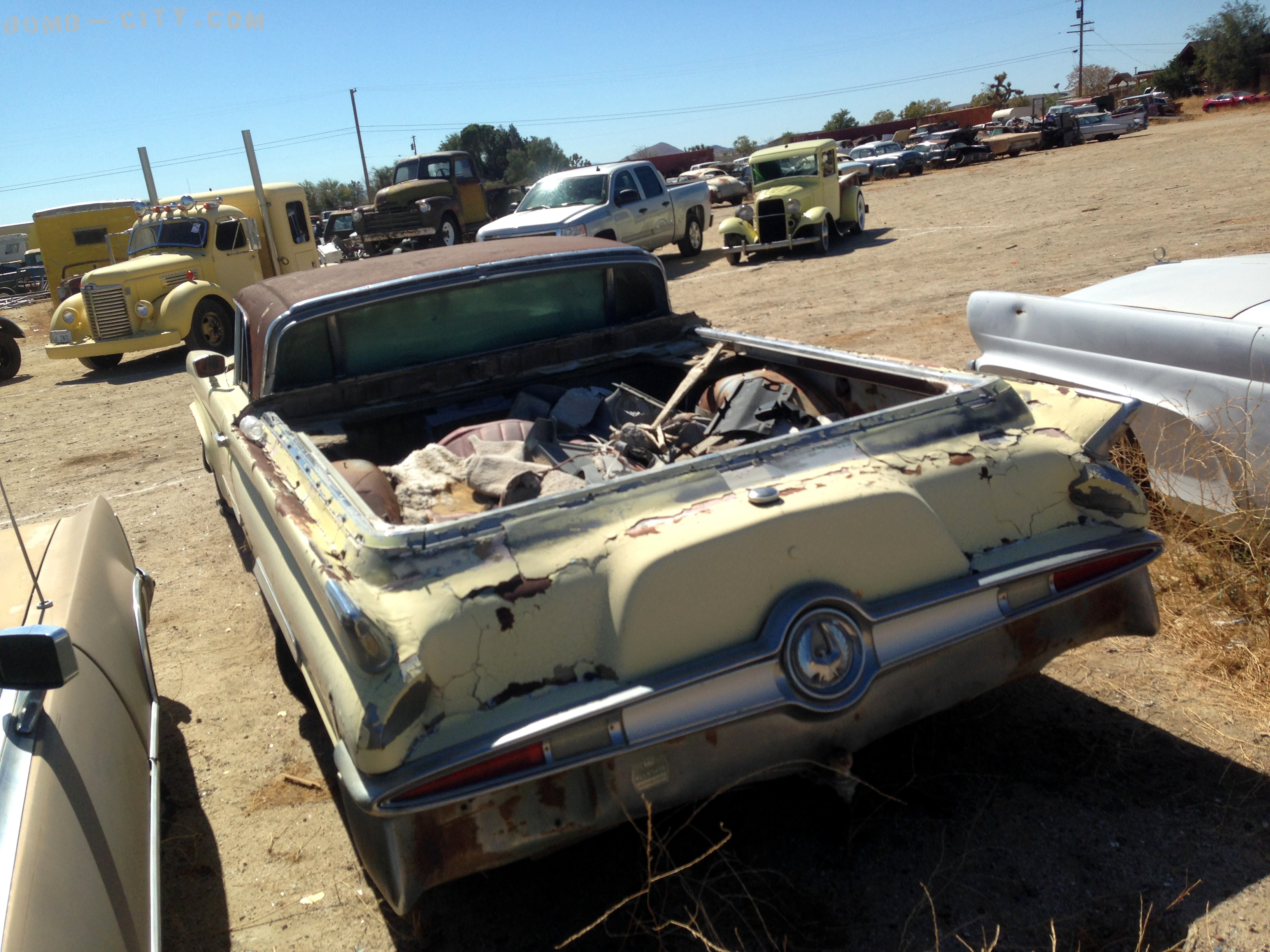 The back lot was filled with fascinating cars like this. I'm not sure if it was a custom by design or a flower car, but either way I dug the hell out of it.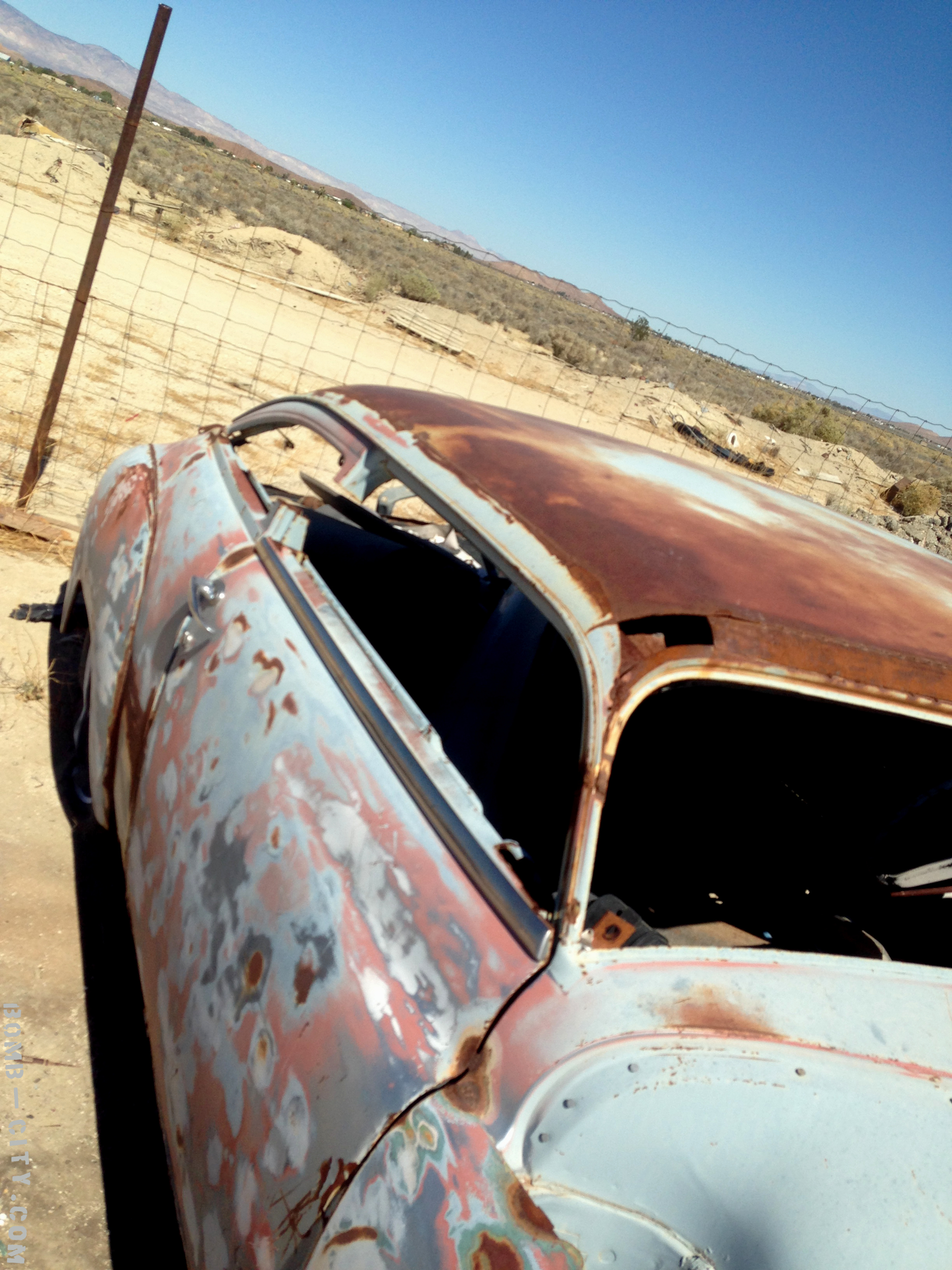 This chop was pretty rough, it's hard to imagine this one ever coming back together.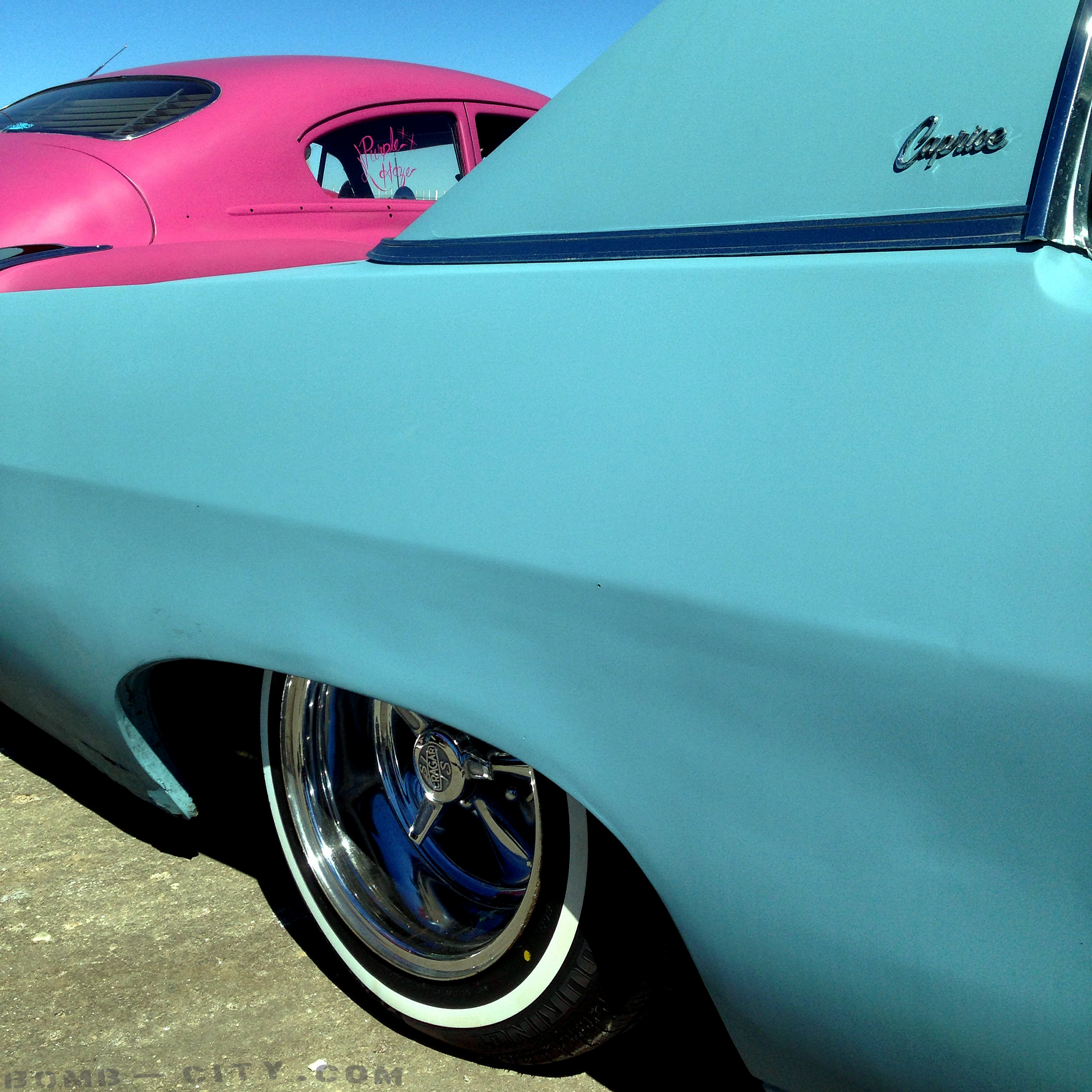 These deeply reversed Cragars fit the wheel wells of this Caprice nicely.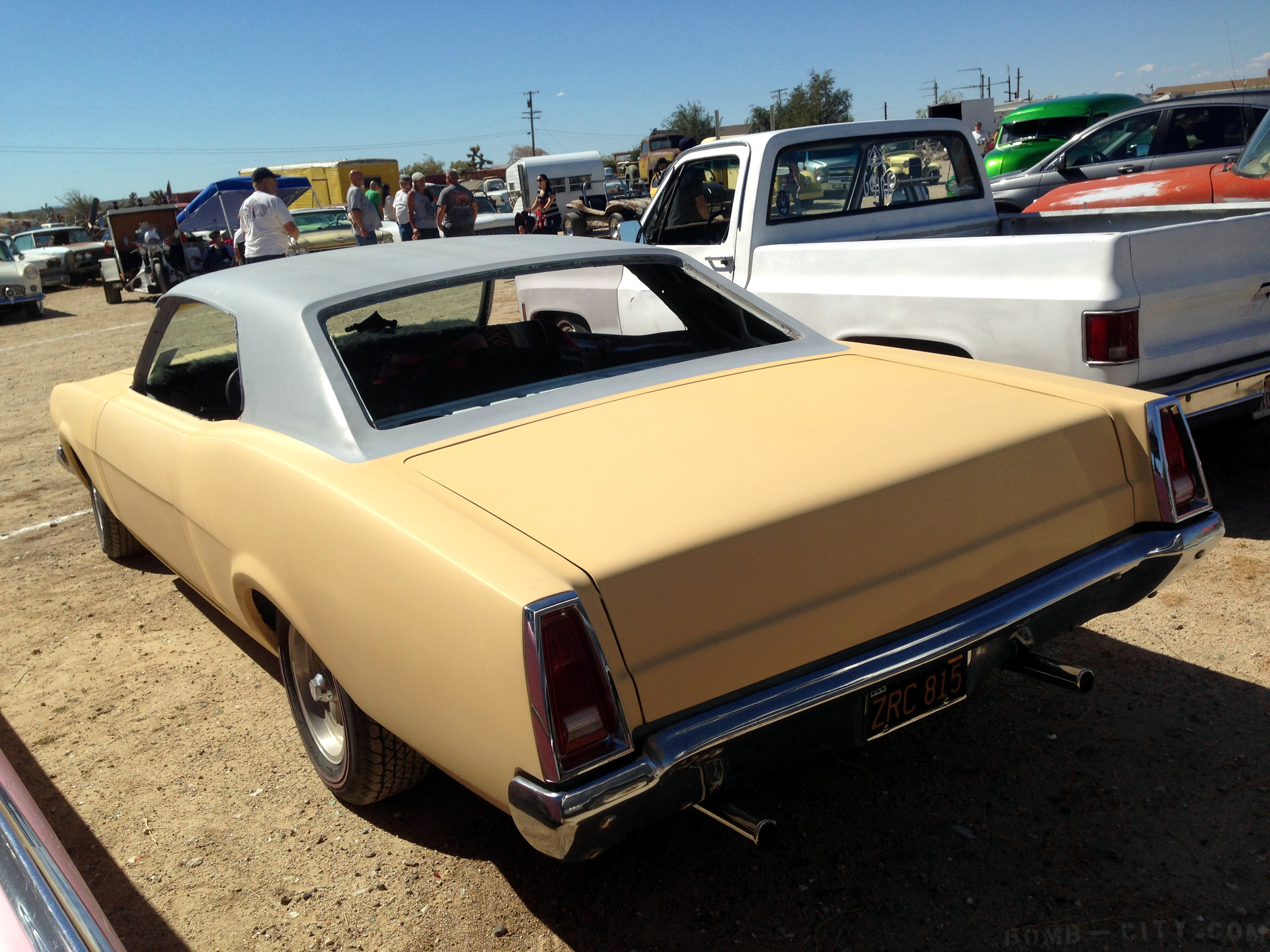 This is John's 1969 mild custom Montego. He's recently gotten it road worthy and we're all very excited to see it's progression. John is a talented metal worker and painter, keep your eyes out for this one!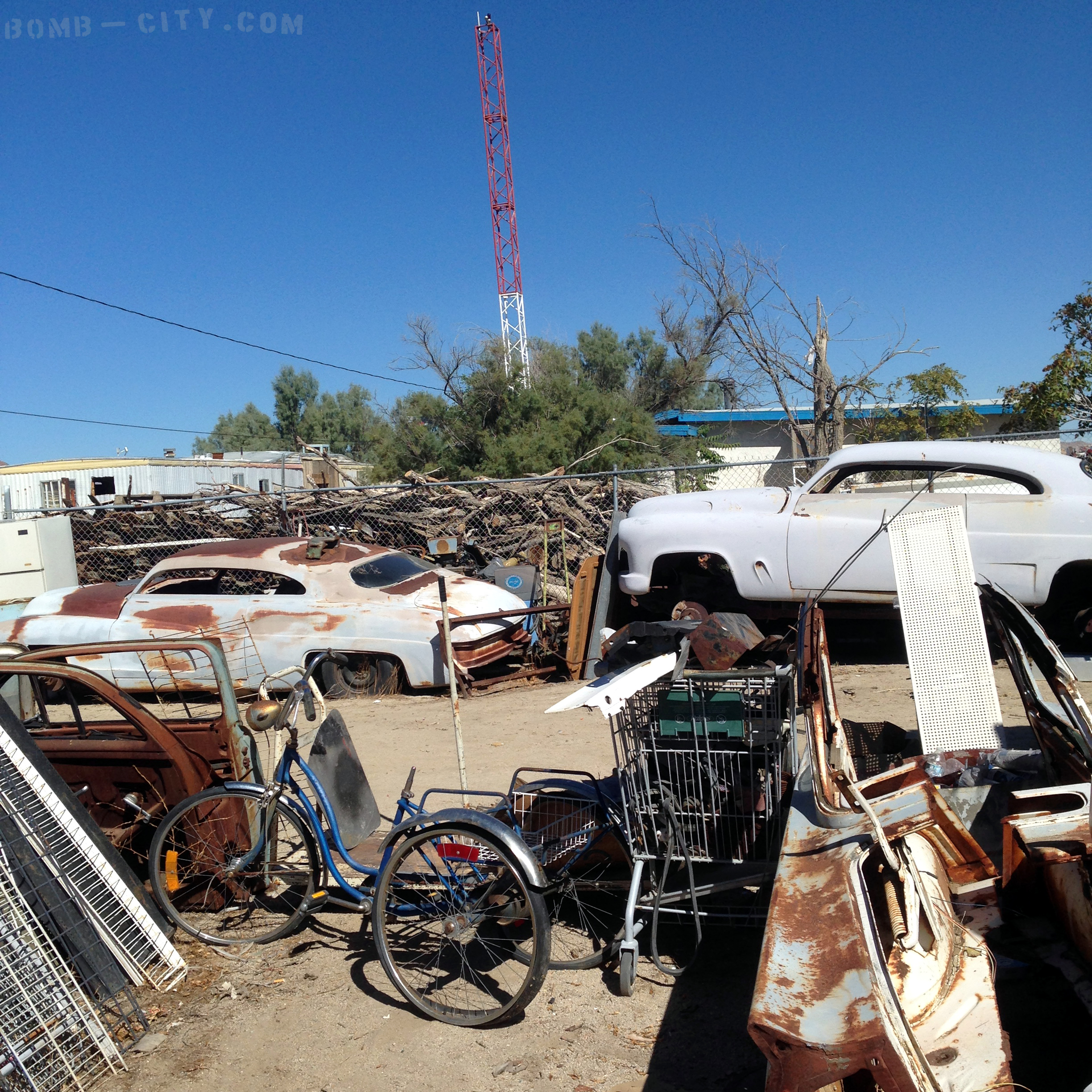 This picture sums up the scene of the backlot pretty well. It is staggering to see the amount of cool stuff stacked on top of junk and abandoned projects.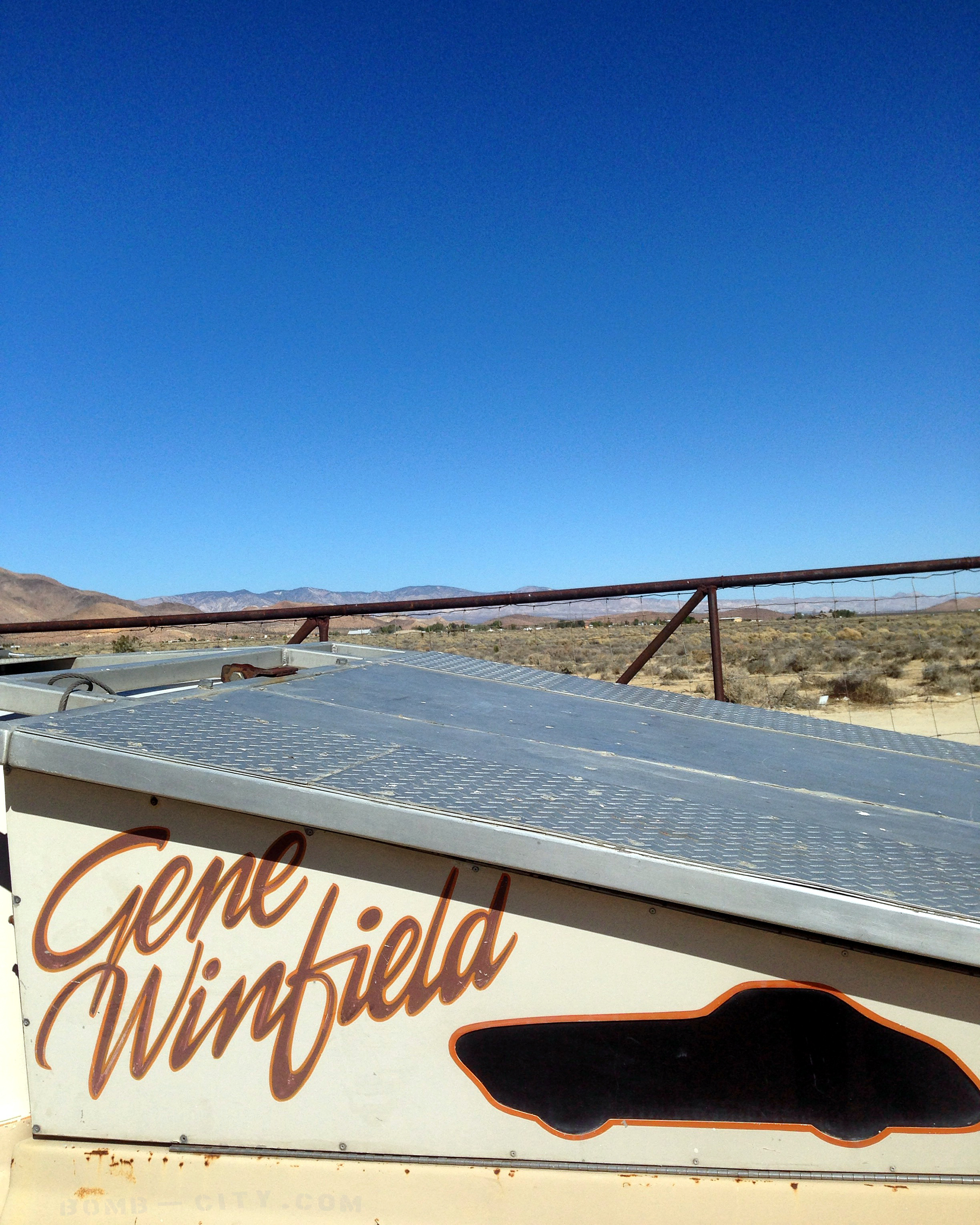 Winfield's old Ramp Truck.
The Sux 6000 from Robocop!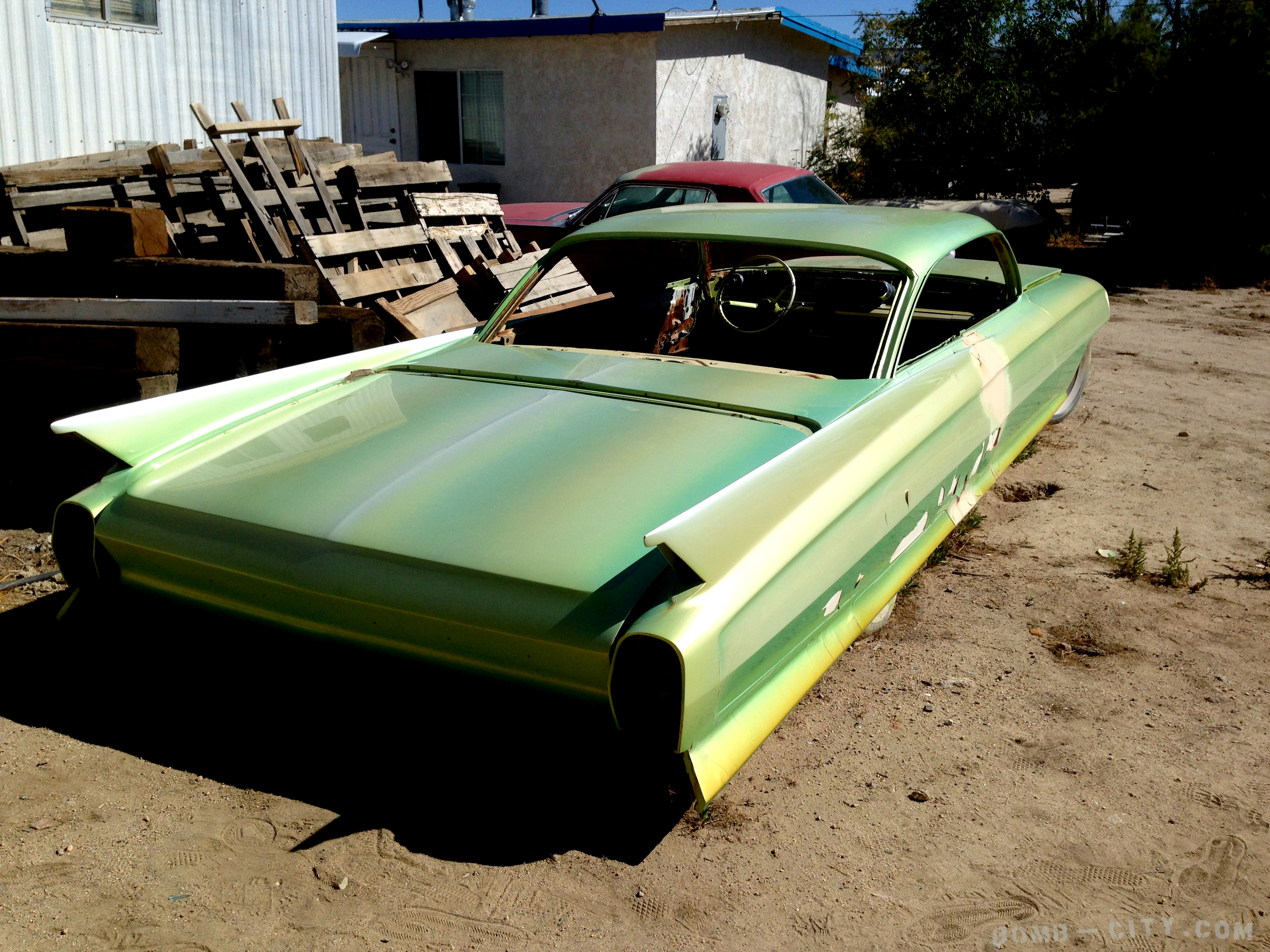 I admit it's tough to see cars like this with so much potential and work invested in them rotting away slowly and blistering under the desert sun.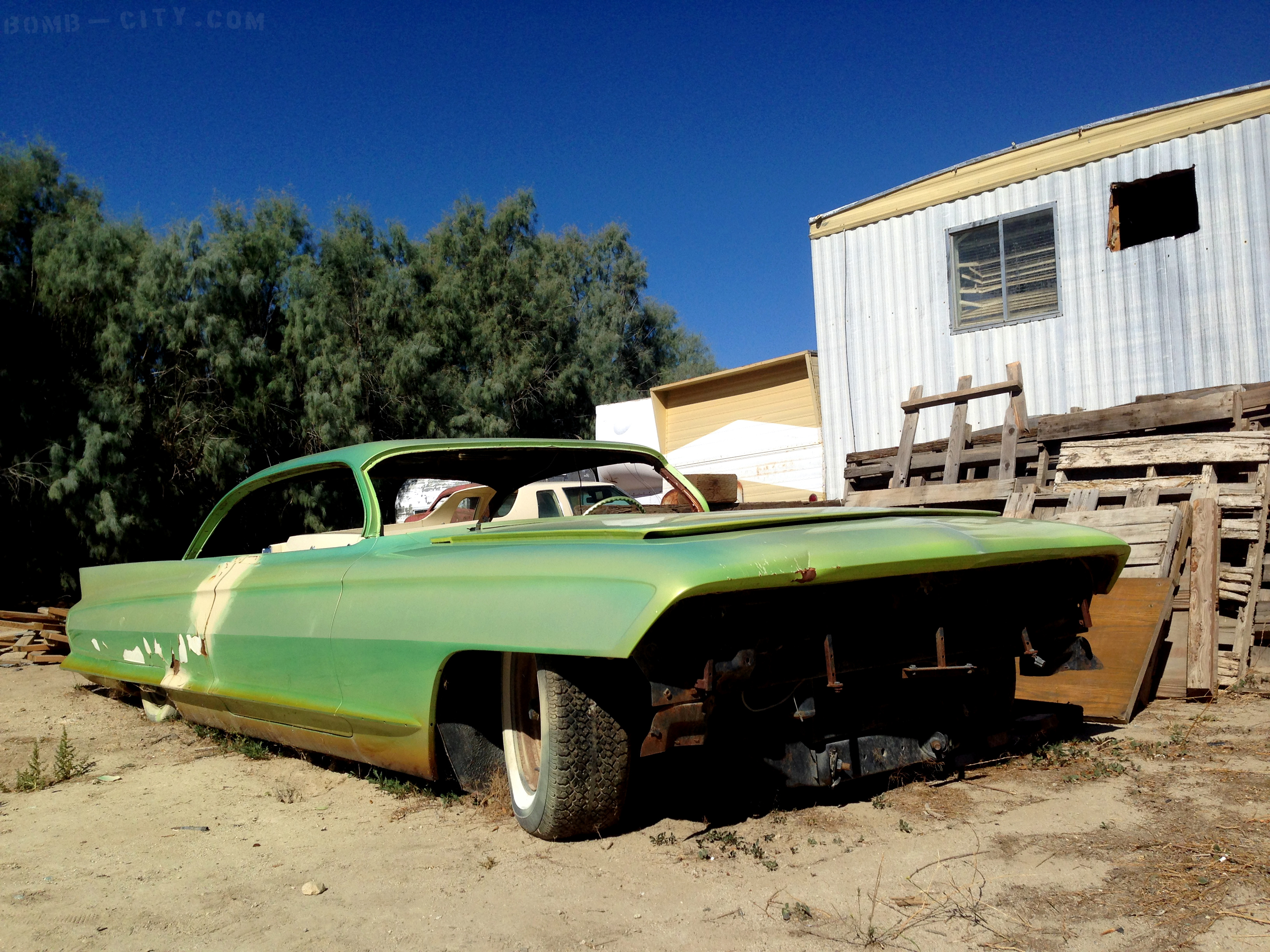 Rust in pieces.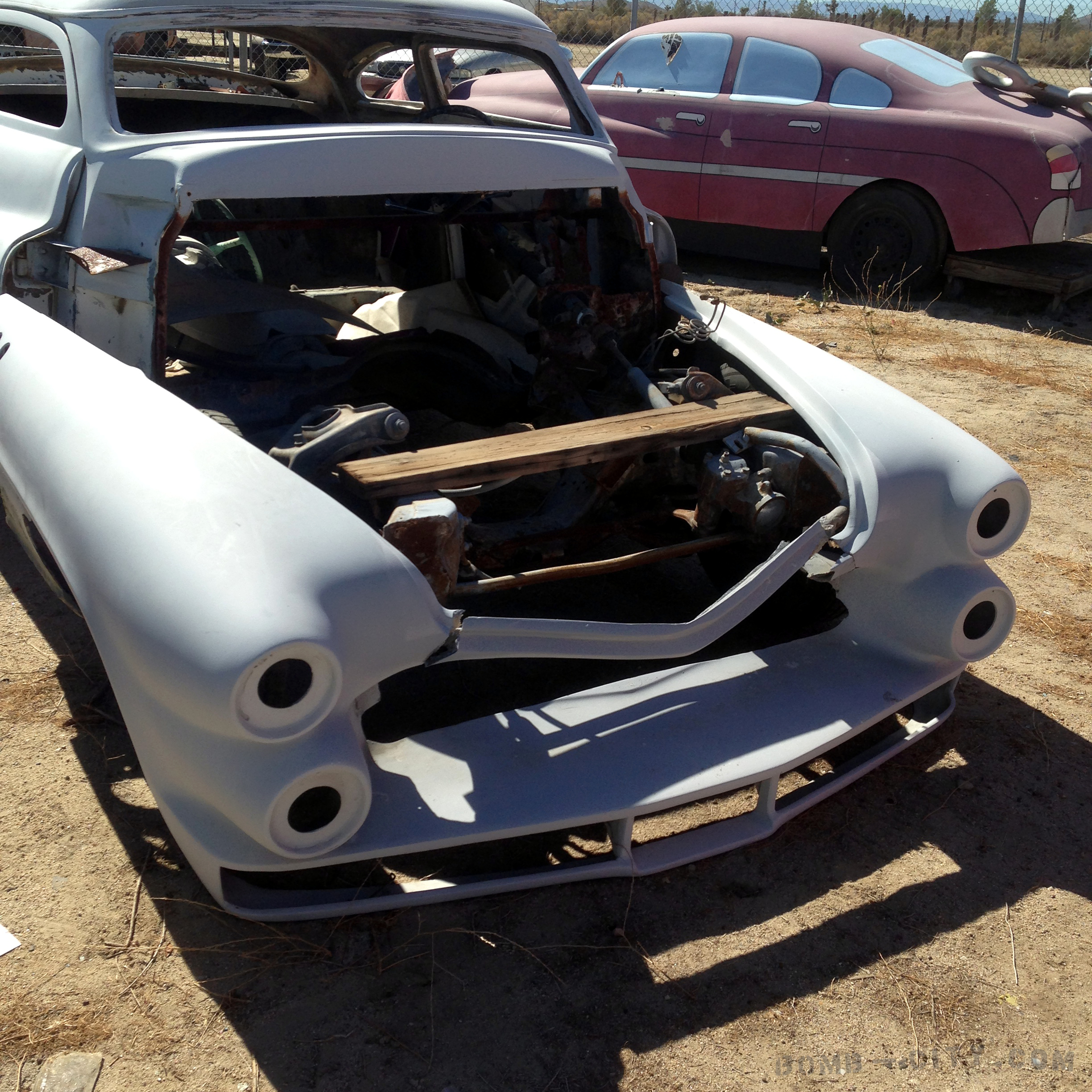 This appears to be a fiberglass recreation of the Solar Scene, Winfield's groundbreaking custom Merc
Another shot of this wild custom fiberglass body. It's interesting to see all this composite work done so close to the Aerospace industry and composite R&D shops in Mohave,
This is airbrushed inside Winfield's paintbooth. I have no idea who did it, but it was pretty awesome to have my feet in this place that is so sacred to custom painters.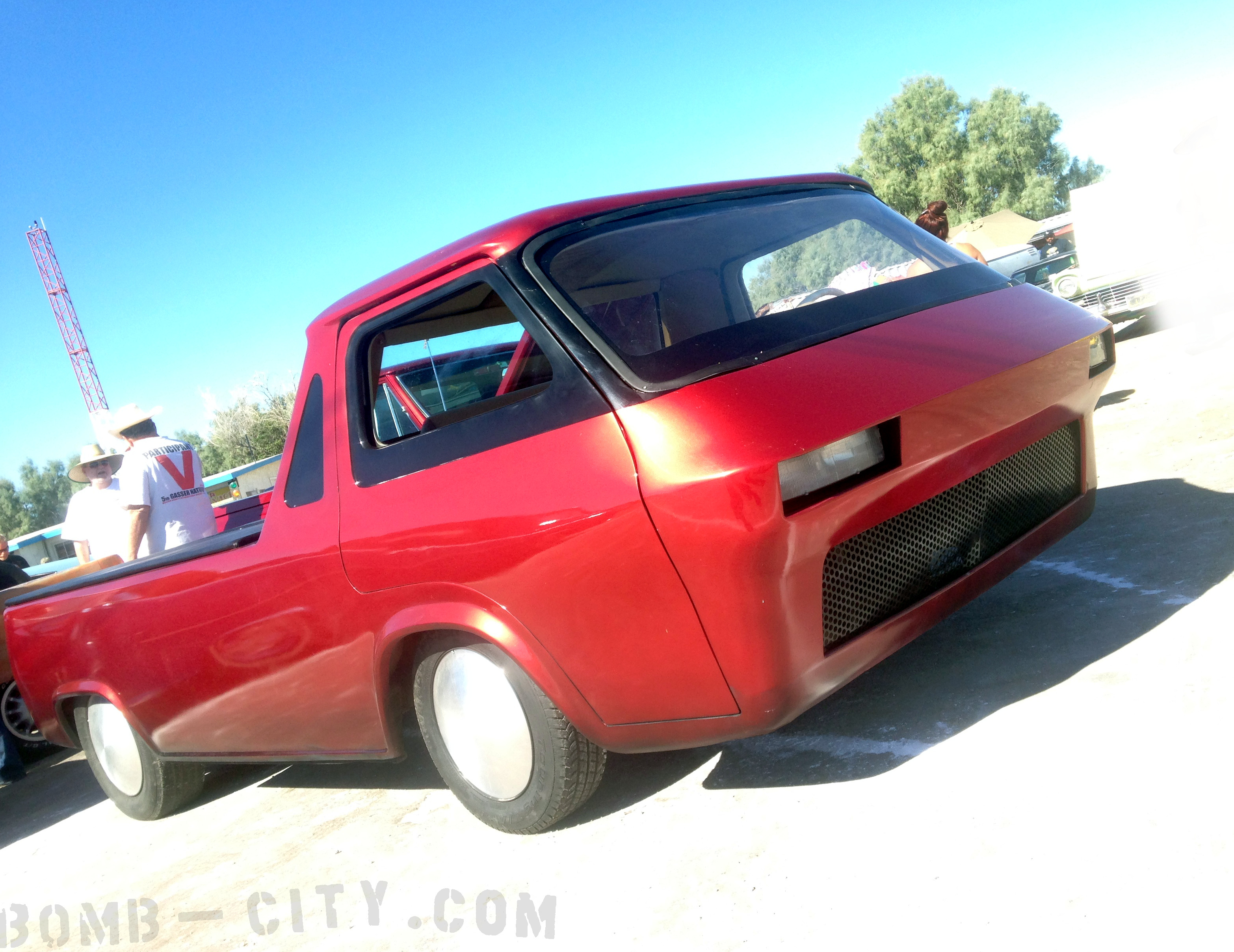 This wild custom Econoline was parked by the Pacifica. I'd never seen it before and know almost nothing about it aside from the fact that it's been customized in a way that reminds me of my parent's old red Aerostar minivan.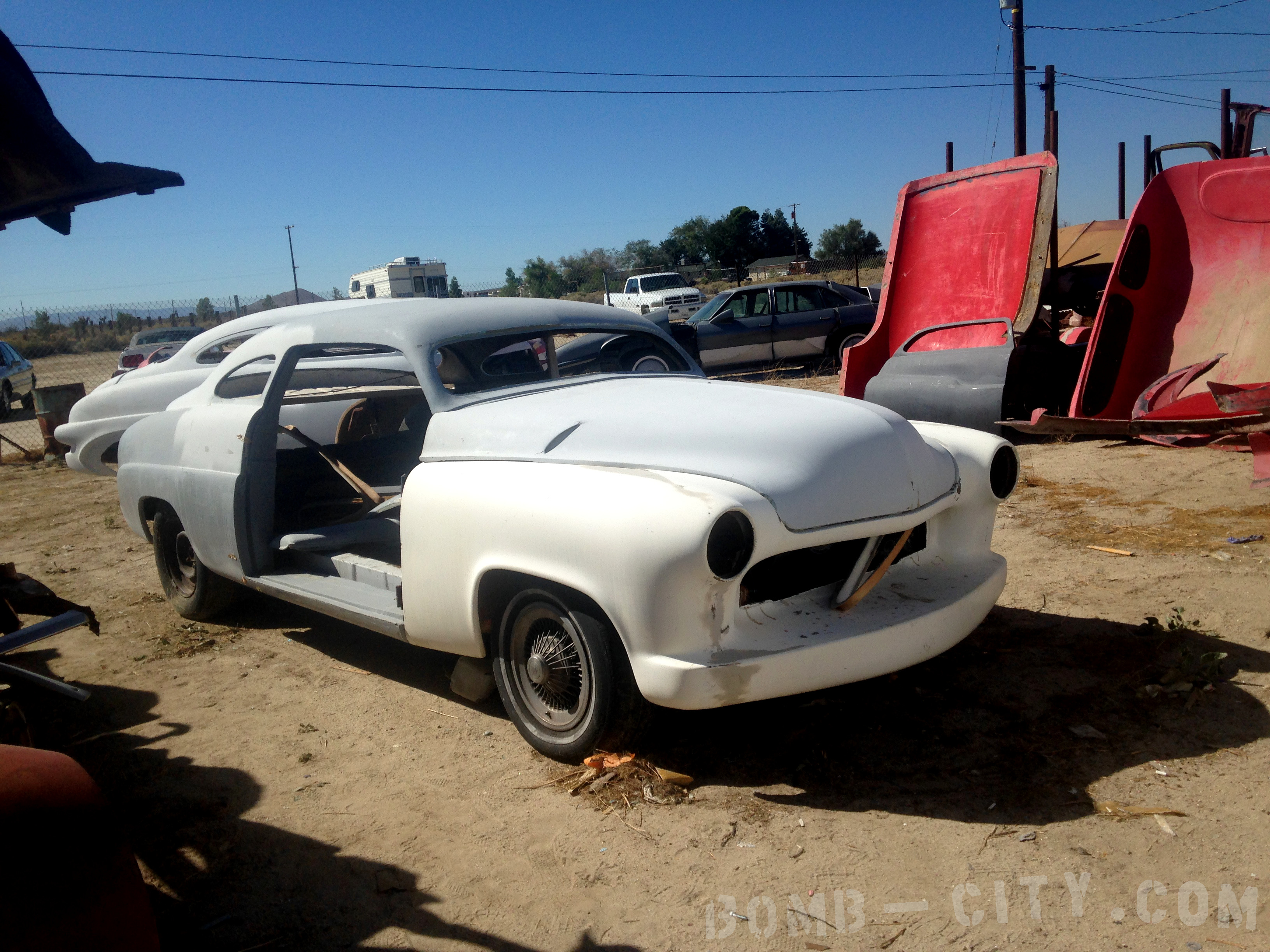 More mercs, more parts, and more halted projects than you can count.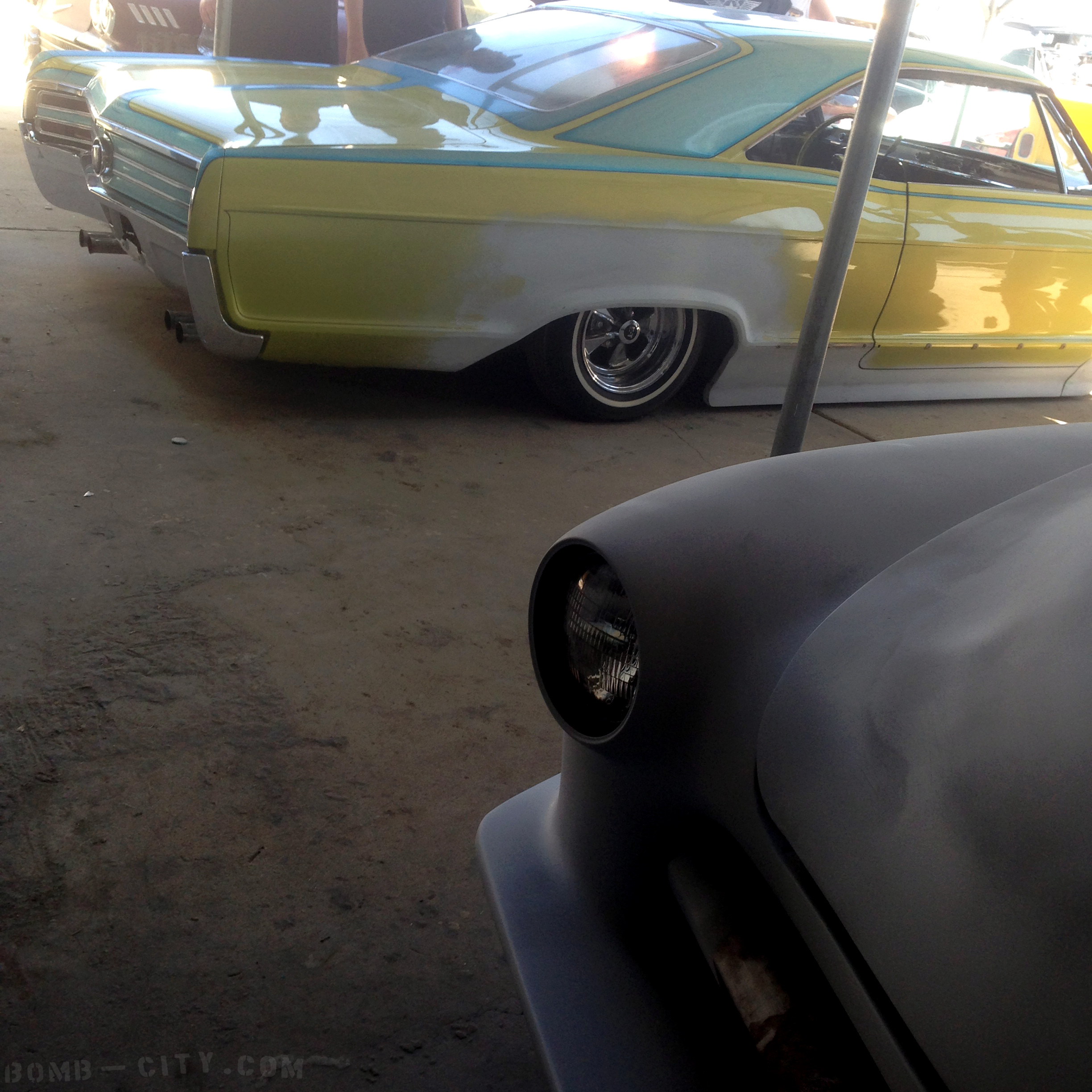 Another shot outside Winfield's shop, there's way too much amazing stuff out here to focus on
Another angle of the Wheels Unlimited Buick, I really dig the dual scavenger pipes and wild combination of paint colors.
The shipping paperwork from Japan was still on the floor, it was very cool to get to see this car up close.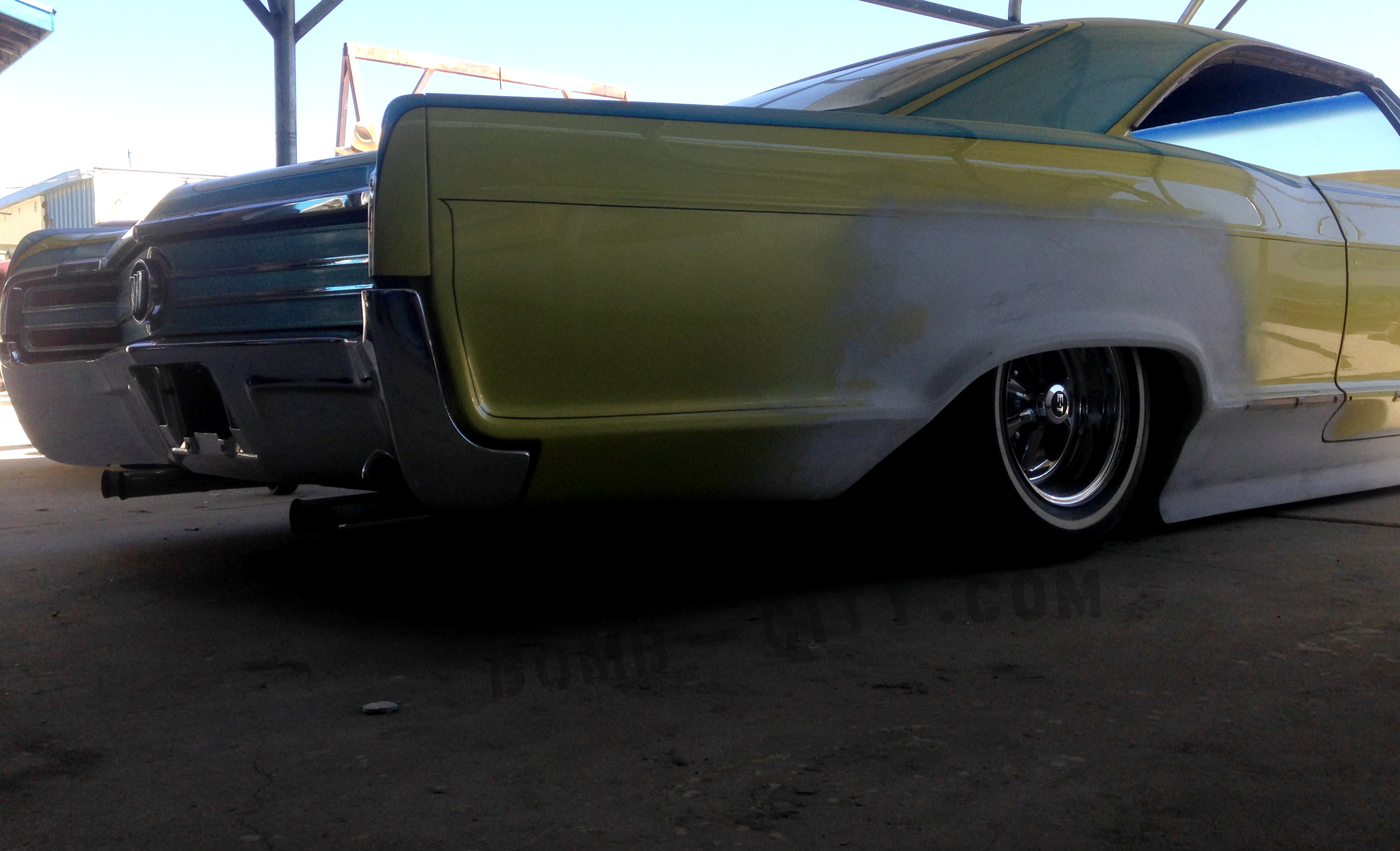 The flared rocker panels are an interesting move, and they really payed off in bringing the bodylines closer to the earth.
I can't wait to see this car painted, it was nearly perfect as it sat but I'm sure it'll be even better after Gene lays his classic fades on it.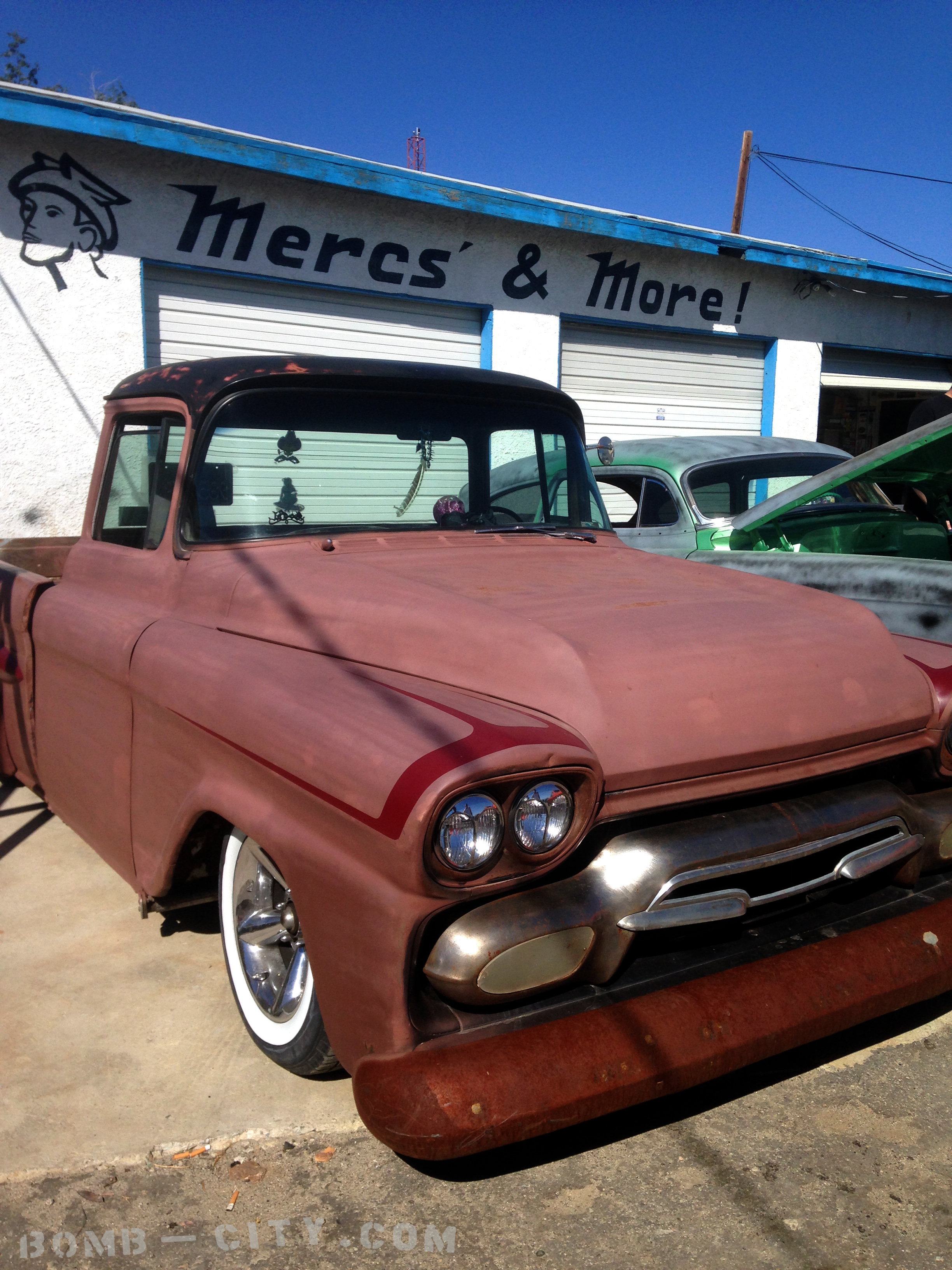 I really dug the frontend on this truck parked beneath this historic lettering on WInfield's shop.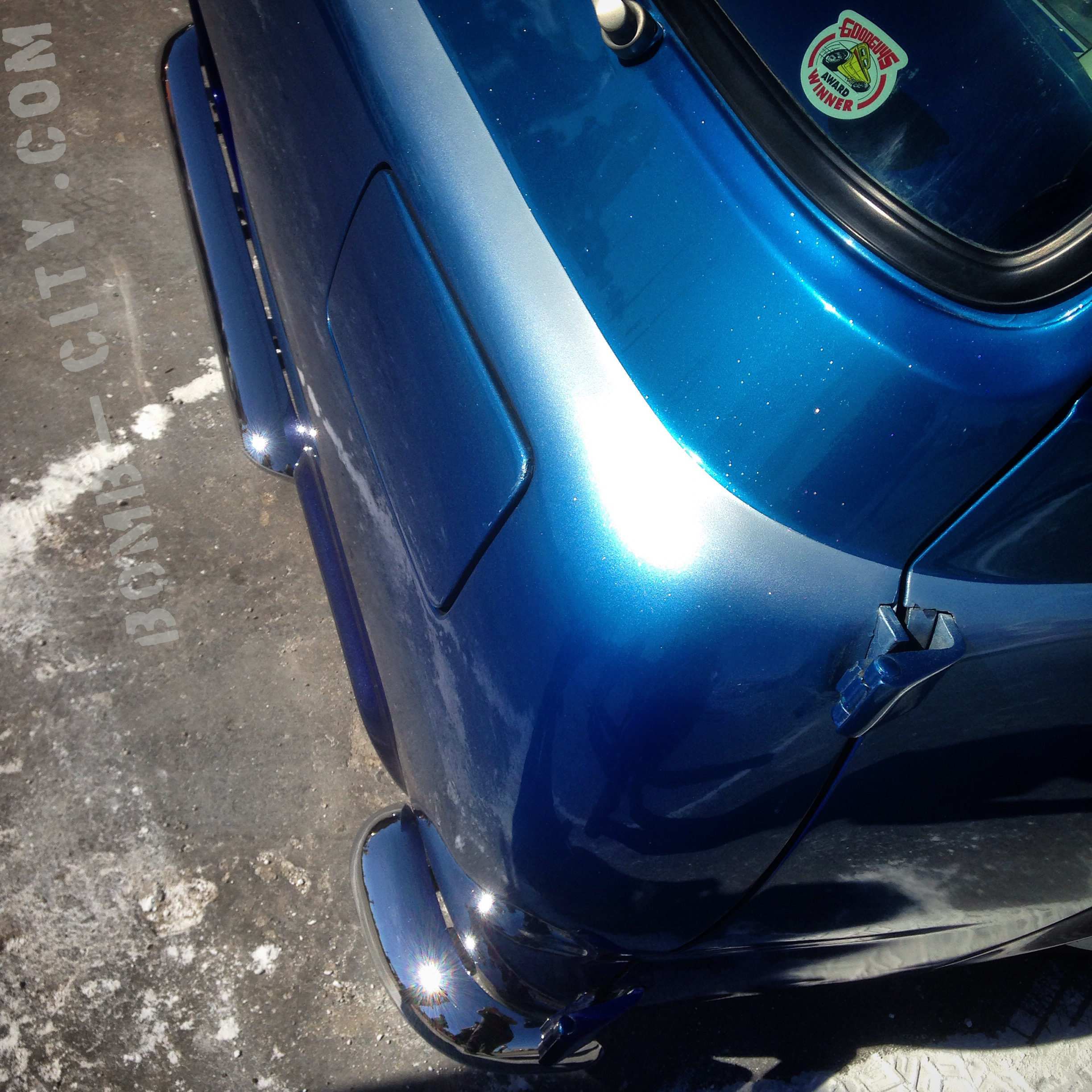 The Pacifica is one of my favorite Winfield cars and one of my favorite Econolines of all time. I really dug the opportunity to get up close to his latest version of it.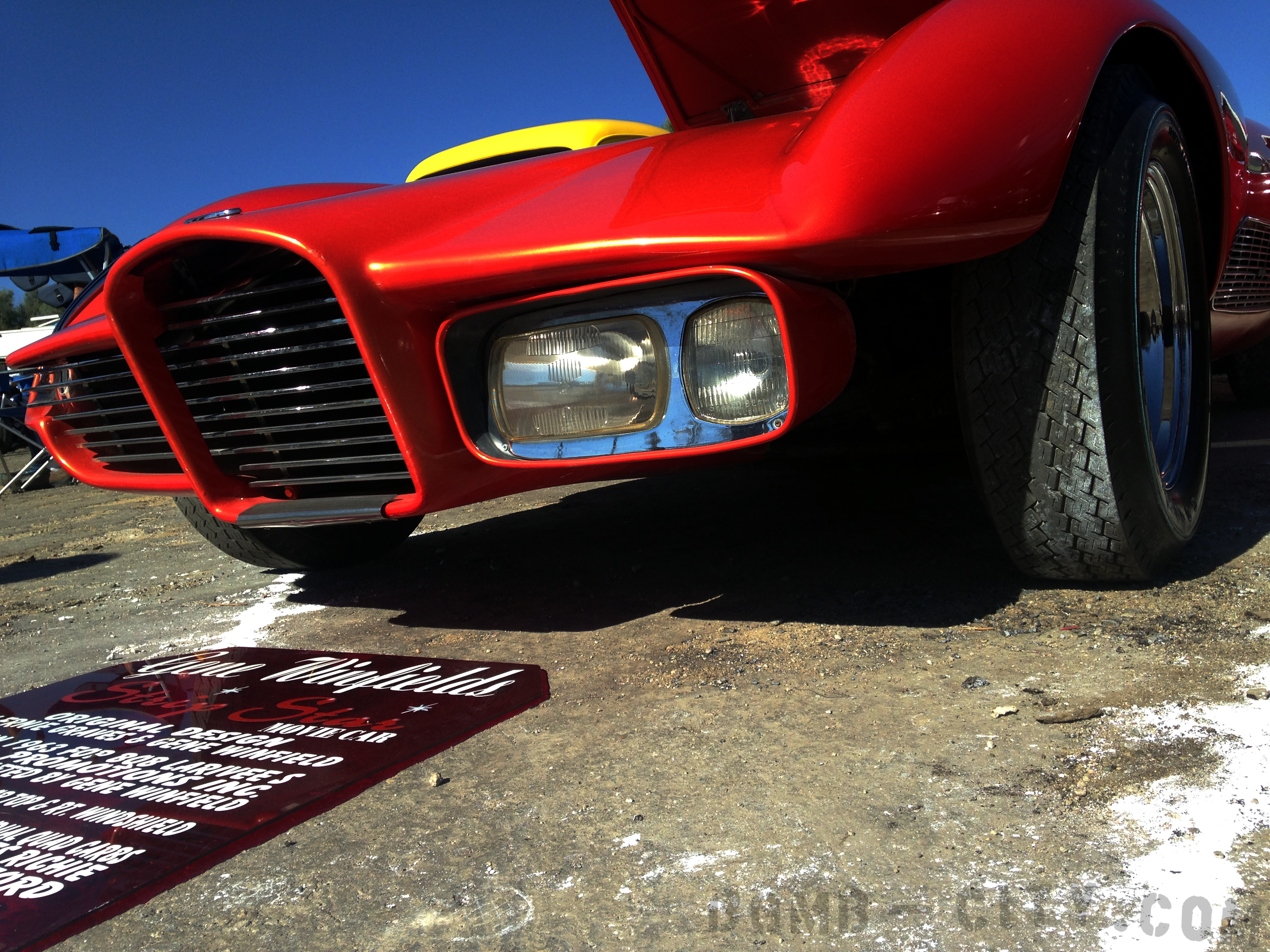 More Strip Star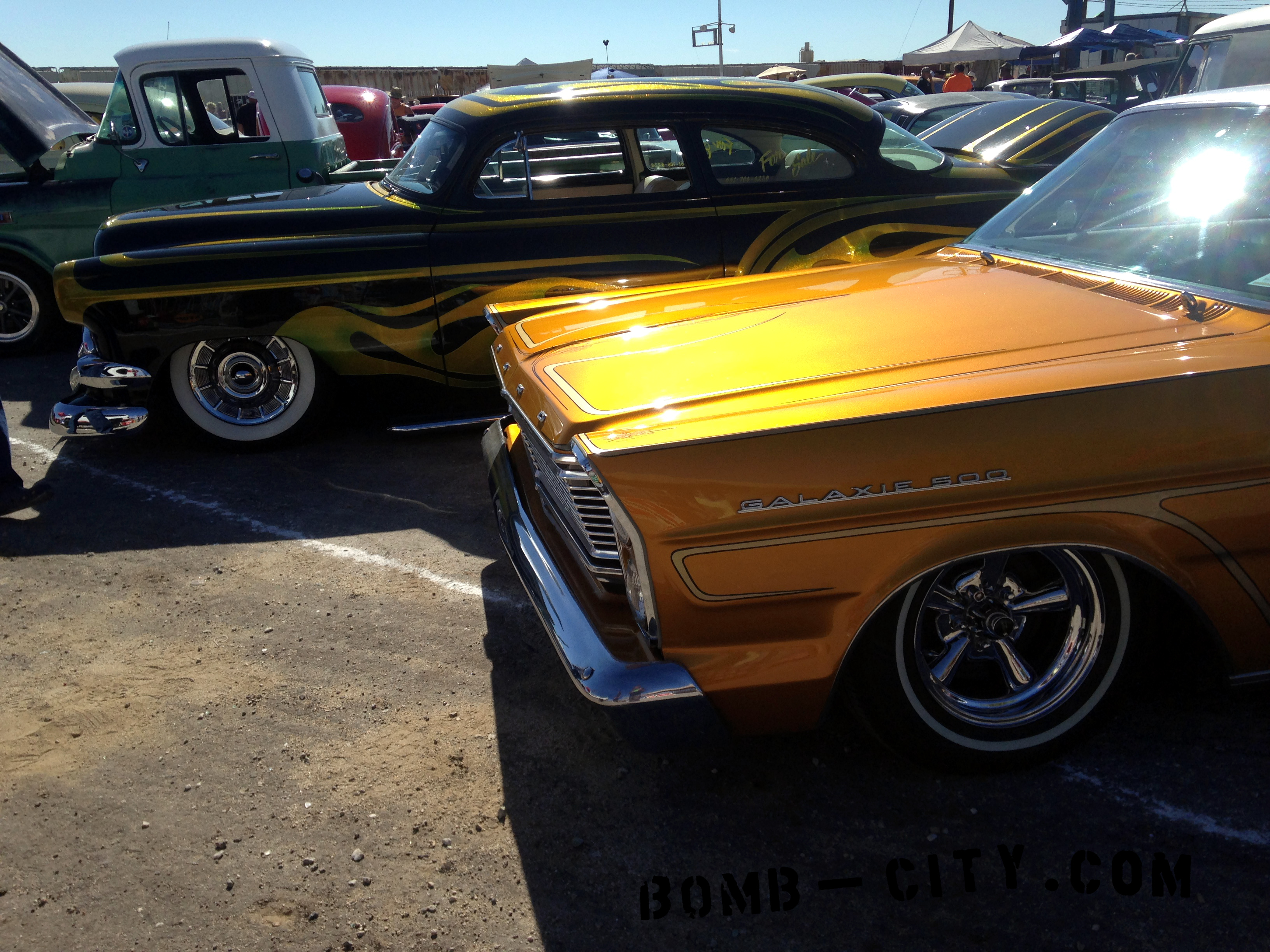 It's always nice to see this Galaxie out at shows, the level of finish on is is pretty stunning.